How To Turn 1 Post Idea Into 10 LinkedIn Posts (step-by-step)
Dec 03, 2022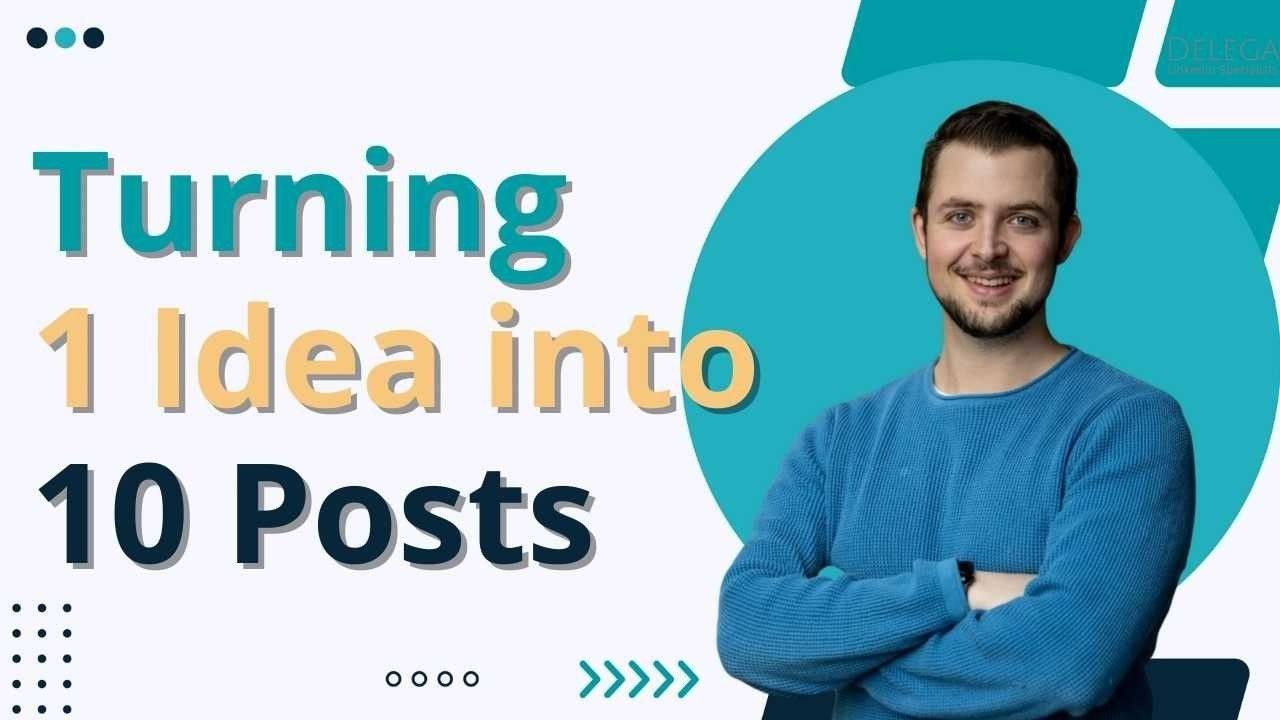 Turning one idea into ten posts with the Content Cloud

Read time: 4 min
In today's issue, I'm going to show you how to take 1 idea and create 10 posts.

If you can create multiple posts from one idea, you'll drastically improve your content production line which means less writer's block without losing any quality.

And even if you aren't ready to start writing every day, you can still have a process for writing weeks in advance.

Unfortunately, most people struggle to come up with consistent ideas for content.

Content doesn't create itself. It's intentionally constructed with deliberate intent.

The system I'm going to show you is what I call the Content Cloud.

The benefits of this system are:

It's easy to come up with ideas.
It's easy to start a post with an idea of where you're going.
You'll become better at idea creation.
You'll be able to write consistently.

Step 1: Post Types

Using pre-determined post types, you can have a plan before you've decided what you're going to write about.

For example, during any given week I will post 10 times in total - twice every weekday.

I know that on Monday mornings I want to share something inspiring, and on Wednesday afternoons I want to share a personal story.

Here are 10 examples of post types:

Share an observation
Talk about a recent win
Compare two different thoughts/ideas
Share social proof
Talk about your ideal client's frustrations and solutions
Share your biggest mistake
Make a future prediction
Make a step-by-step guide
Solve a problem
Share a story

These are ten post types you could use as a general format, but what to write about?

Step 2: Topics

Now that we have 10 post types, we will need a topic to write about.

This is where you need a little creativity and inspiration.

My advice is to write down a list of words and ideas in your specific niche. You can do this by thinking about your experience, your pitch, talking to your clients, and asking why they chose you.

My list looks something like this:

LinkedIn
Content creation
Social selling
Engagement
Branding
Strategy
Sales enablement
Lead generation

Now I have a list of topics that I know are relevant to my niche and will draw in potential customers.

Step 3: Content Cloud

This is my favourite part.

If you get this right, you'll essentially have unlimited content ideas.

You now can combine Step 1 and Step 2 to come up with a post idea.

This is the Content Cloud.

Post type + Topic = Content

It's a simple mix and match but the idea is that we have all these post types floating around with topics surrounding them, and as soon as they hit each other they drop to the earth as a content idea!

Here's an example:

Share an observation (step 1) about LinkedIn (step 2). E.g. I've noticed recently that carousels are doing incredibly well, let me share something about that.
Make a step-by-step guide (step 1) about content creation (step 2). E.g. this whole edition! I could also make a step-by-step guide about content pillars which was last week's edition.

This is the beauty of the Content Cloud.

Unlimited content ideas with a simple and intuitive system.

What's stopping you from applying it today?